Premium Kitchen Countertops in St. Louis, MO
Update the look of your home with new bathroom and kitchen countertops in St. Louis, MO. At Cabinet Distributors Inc., we design and install a large selection of beautiful countertops for your home. Made from laminate, granite, or quartz, these new countertops are the perfect way to improve the look of your home, while also adding new functionality to your kitchen or bathroom. Whether you are looking for a classic look or a fresh modern style, we will find the right countertop that fits with your décor.
Choosing the Right Materials
When choosing the right materials for your countertops, there are several options to consider. Do you choose to go with the durability and strength of granite counters? Or do you choose the classic and timeless appeal of quartz? No matter which style you are considering our team is here to help you make the best choice for your home and design. Our expert design team will help you weigh the benefits and costs of each material type and help you choose the one thatfits perfectly into your space and budget. When deciding on the material to use there are three main options: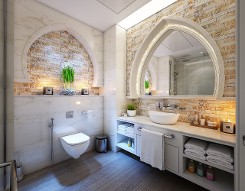 Luxurious Laminate
Affordable yet durable, this option fits perfectly into any budget. Laminate is also available in the largest selection of colors and styles, making it the easiest to fit into any décor.
Durable Granite
Granite is a popular option amongst many homeowners. The smooth and sealed surface of these countertops makes them easy to care for.
Classic Quartz
Quartz countertops are made to stand up to the tough messes that are commonly found in kitchens. The non-porous surface of the quartz means spills wipe away leaving the beautiful appearance of the counter unchanged.


Complete Design and Installation
After choosing the materials for your counters, our team will then help you with the design. We will work with you to determine the best layout for your new counters ensuring that you are getting the most functionality out of your new space.
Once the design plans are done, we will take care of your installation. We will start by laying out and installing your new counters. Whether you choose laminate, quartz, or granite countertops, our team has the experience needed to install it properly. After we complete your installation project, we will clean up any messes, leaving you to enjoy your beautiful new counters.
Contact us when you are looking to install custom countertops in your kitchen or bathroom. We proudly serve St. Louis, MO, and the surrounding areas.